"
Robert Novell's Third Dimension Blog"
Good Afternoon and Happy Friday—The week pasted quickly for me and I must admit that I am ready for some down time. I hope everyone is well and thanks for stopping by the 3DB where once again we are going to talk about the future of the Regional Jets and the ACMI carriers who operate them.
The picture above is a RJ-200 operated by Air Wisconsin for US Airways and one of the issues that I am having a problem answering for myself is what happens to the regionals supporting American/US Airways when the main line carriers become a single entity; however, while I have some facts to share with you, that may give you/us a starting point to build on, I don't have a definitive answer to offer up – only speculation.
So, let's move ahead with a few more facts……………….
One of the points we talked about last week was fuel cost being the primary consideration for the CRJ-200s being put out to pasture but I am not sure that is true. Yes, fuel cost per seat mile are high but if you have a lease payment for the new equipment that will be almost six times what they are currently paying per month then how much are the main line carriers saving? Is there another reason that has the main line carriers moving away from the 200s and into the 76 seat aircraft?
Could it be that the image of the 200s, having been dubbed a circular sardine can by the public, be the issue? No, because I don't think Delta would have just purchased 40 CRJ-900s, with an option for 30 more if this was true.
Could it be that the CRJ-200 is beginning to encounter higher maintenance cost because of high utilization and their age? Are they destined to be pushed aside like the DC-9s and early B-737s?………….. Maybe?
Could it be that the main line carriers are going to give the new equipment to ACMI operators who have a lower cost as compared to the size, and seniority issues, of the current operators? I know of two cases in the past where this solution was used by the main line carrier in order to push the cost per hour down to meet their needs. Could this be happening again? For sure we know that the "Scope Clause" that brought on the RJ Revolution and made the 50 seat jets a mainstay for the regionals is now going to make the 76 seat jets the mainstay and the 50 seaters are no longer wanted, or needed, by the main line carriers.
Currently there are around 600 CRJ-200s operating in North America and Embraer has around 600 of the ERJ-135/140/145 operating in the same market. There is a potential market for some of these airplanes to be converted into freighters, or corporate aircraft, and the emerging market in Russia, Africa, and else where may absorb some. However, I think the majority will end up in the desert but there are still other airframes whose future may be in question. I have a chart from the RAA website below that reveals the total numbers:
An interesting item for you to consider about Delta is that when they shut down Comair in September of 2012 they noted that COST was the primary consideration. They also announced that the 500 or so RJs would be reduced to around 100 within two years; however the big announcement that got everyone's attention was that they would be leasing all of the 88 Air Tran B-717s from Southwest.
A copy of an article on that lease agreement can be found below.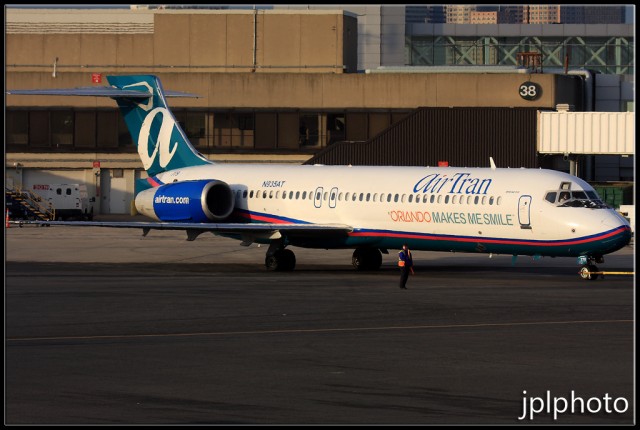 By Mary Schlangenstein & Mary Jane Credeur – May 22, 2012 3:19 PM PT
Southwest Airlines Co. (LUV) will unload its Boeing Co. (BA) 717 jets, returning the discount carrier to flying just one type of plane, under a tentative sublease agreement with Delta Air Lines Inc. (DAL)
Delta will become the biggest operator of the 717, a model out of production since 2006, as it takes the 88 jets Southwest acquired in buying AirTran Holdings Inc. in 2011. Atlanta-based Delta said today the planes will replace less-efficient jets.
Shifting back to flying only Boeing 737s will help Dallas- based Southwest curb training and maintenance expenses, and dropping the smaller 717 also rids the airline of a plane that costs more to fly on a per-seat basis. Southwest is the largest customer for the 737, the world's most widely flown jetliner.
"It returns us to a single fleet type and improves our overall economics," Chief Operating Officer Mike Van de Ven said in an interview. "It improves our scheduling flexibility and our ability to recover when operations go awry."
Delta will use the 717s to replace 50-seat regional jets and older DC-9s targeted to be removed from its fleet. The purchase extends the airline's strategy of adding used planes, such as the Boeing MD-90s bought in April, to help retire some of its aging aircraft.
Neither airline disclosed financial terms.
Southwest Drops
Southwest fell 0.8 percent to $8.27 at the close in New York, while Delta slipped 0.4 percent to $10.54.
Boeing made only 156 of the twin-engine 717s in seven years of deliveries that ended in 2006. By comparison, the 737 has amassed more than 9,300 orders since its first one in 1965, and the best-selling variant made today can seat about 160 people, according to Boeing's website.
The 117-seat 717s would move to Delta over three years starting in the second half of 2013 through 2015, Southwest said in a statement. The airline has said it expects to end 2012 with about 692 planes, including the 717s. Boeing Capital Corp. holds the 717 leases and is a party to the Delta accord.
When Southwest agreed to acquire AirTran in September 2010, the airline said it saw a role for the 717 in serving smaller cities. The AirTran purchase closed in May 2011, and Southwest said in August it wanted to drop the planes, after fuel prices climbed 48 percent in the previous 11 months.
'Made Sense'
"If there was one factor that influenced the economics of the airplane more than anything else, it was rising fuel prices," Van de Ven said. "At that point, it made sense for us to try to get back to a single fleet."
Once talks began with Delta, Southwest didn't search for any other carriers to sublease the planes, Van de Ven said. Southwest's leases extend through 2018 to 2024.
Delta's acquisition of the 717s is contingent upon its pilots approving a tentative agreement to cover the aircraft. Voting will conclude June 30 on the accord, which also allows Delta to add as many as 70 two-class, 76-seat regional jets.
"These actions pave the way for us to restructure and up- gauge our domestic fleet, which will lower our costs, provide more pilot jobs and improve the onboard experience for our customers," Chief Executive Officer Richard Anderson said in a statement.
Southwest plans to keep its fleet count largely unchanged as the 717s move to Delta at a rate of three a month starting in mid-2013. Delta said the 717s won't alter its seating capacity.
Reference the union agreement with the Delta pilots that is pending ratification. You will find the following verbiage:
In terms of scope, we were able to achieve important improvements, from the smallest jets through international joint venture protections. Scope is the most complex section of the contract. At its core, it is about who flies Delta's passengers and ultimately, about Delta pilot jobs.
Importantly, we will have a block hour ratio, which establishes a minimum amount of mainline flying relative to DCI flying and a cap on the total number of 50 to 76 seat DCI aircraft. Delta will be permitted accelerated access to 76-seat jets, but this access can only occur if Delta first acquires small narrow-body jets flown by Delta mainline pilots and if there is a significant reduction in the number of 50-seat aircraft. Without the acquisition of these new mainline aircraft, Delta will be capped at the current level for 70/76-seat jets. Ultimately, under this agreement, Delta's access to 76-seat jets will be capped at 32 less than what is allowed in the current PWA. Additionally, Delta will no longer be permitted to convert 70-seat jets to 76-seat jets going forward, regardless of the size of the mainline fleet. Delta management decides which aircraft it operates, but we have every reason to believe that Delta will soon announce the purchase of aircraft contingent on the ratification of this agreement. This will represent a major opportunity for many of our pilots to upgrade from the right seat to the left seat and will also create a need for additional hiring for the right seat. While the details are complex and best left for a dedicated Negotiators' Notepad, let me summarize by saying that if Delta executes its plan for the small narrow-body jet flying, the result will be a major shift of block hours to Delta mainline. The share of mainline domestic flying will increase by 21 percent and the ratio of mainline domestic to DCI flyingwill increase by 57 percent over the life of this agreement.
The entire agreement can be found by clicking
HERE
.
It will be very interesting to see if Boeing responds to the renewed interest in the B-717 by Delta, and others. Will they once again get in to the business of building this airplane, which is now considered to be a regional airliner, or will Boeing allow others like Canandair and Embraer move in to their market like Airbus did?
The Boeing question is an interesting one but another good question is how may airports only have the regional airlines serving their community? I went to the RAA website and found this chart below:
The regionals are a needed commodity but I don't think that they need to be a byproduct of the main line carriers. If the economy turns around I believe there could be room for a few "Independence Air" type carriers, but as we talked about last week the reservation system of the main line carrier is a formidable opponent.
Who are the players in the regional airline industry and who do they fly for? I went to the RAA website and found that info and I was glad to see that there are some operators out there who fly there on colors; however, the most interesting point we have to consider is how many more of the large carriers like Comair will disappear and be replaced by a new ACMI carrier that will pay their people less and fly under contract at a reduced rate to get their foot in the door. Lots of money to be made by management if they do more for less.
The issue concerning the RJs is no longer an unanswered question—they are finished and the 76 seat aircraft are in. How may 76 seat aircraft are required to replace the current fleet of RJ's/ERJs? Around 650 but if the B-717 becomes a player this number will change dramatically.
Before I close I want to address the issue of American Eagle and then pose a few questions for you to consider.
First – I have found nothing that says for sure that American Eagle will cease to exist but what I have found are three separate articles where  Eagle Chief Executive Officer Dan Garton has said that there is a possibility of that occurring before year's end. I have no insider information to offer up but please remember that American owns the paper on the airplanes just like Delta owned the paper on Comair's airplanes. American manages Eagle as did Delta managed Comair. Does American Eagle go the way of Comair because of cost, seniority issues, and per hour pricing? You decide, but for me I would say be prepared for the worse. I think Eagle will disappear shortly after the merger comes together and the newly packaged American, who appears to be run by US Air management, emerges back in to the market place. I know that no one in the regional community wants to see this happen because of the number of families that will be hurt; however, plan for the worst and hope for the best.
Now, let's think about these questions and we will see if we can address the specifics of each later this month as I continue to talk about the facts:
1. What do the main line carriers bring to the table, and add to the menu, for people in commercial aviation with the ACMI carriers they have chosen to operate their regional aircraft?
2. Do the ACMI carriers who are currently operating for the legacy carriers provide their people with the tools, pay, and benefits to ensure their day-to-day success?
3. Do the ACMI carriers provide long-term job security for those they employ?
4. What does the future hold for the US if all air service is controlled by the remaining legacy carriers?
I hope that the weekend affords time for everyone to enjoy some time with family and friends and thanks for stopping by. Take care, fly safe/be safe, and remember all aviators are "Gatekeepers."
Robert Novell
June 14, 2013