"Robert Novell's Third Dimension Blog"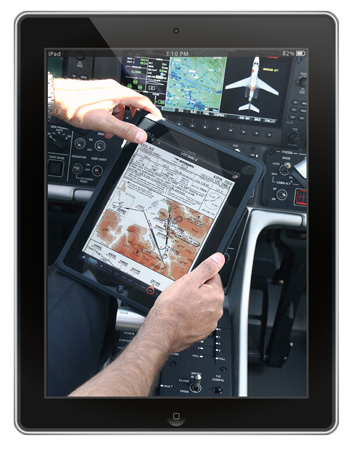 Good Morning—Time to talk about safety and technology and today I want to share an article with you on the iPad revolution. This article was presented by the Flight Safety Foundation a few years ago but a quick review is worth your time.
Enjoy…………………………………..
The Age of the iPad
The tablet computer — especially the iPad — is increasingly in use as an electronic flight bag.
BY MARIO PIEROBON
No other piece of equipment in the recent history of aviation technology has become as popular with pilots as quickly as Apple's iPad tablet computer, which increasingly is being used as an electronic flight bag (EFB).
Airbus and Boeing both seem convinced of the role the iPad and other tablet computers will play in the future of information management technology for air navigation. In early 2012, Airbus CEO Tom Enders said the iPad is "changing the way pilots interact with the aircraft" and that the "impact of such products, from outside the world of aviation, is starting to dictate what people expect from us, and we can't ignore that."1
In July, Airbus launched an iPad EFB solution, "FlySmart with Airbus," that includes apps (applications) with which pilots can compute performance calculations and consult Airbus flight operations manuals. Airbus plans a second set of iPad apps that it said "will add more performance, as well as load sheets, flight folder and navigation charts applications."
Boeing also recognizes that the iPad has "gained rapid, unprecedented popularity as an EFB in all aviation market segments."2 Jeppesen, a Boeing subsidiary, has developed a charting app that the U.S. Federal Aviation Administration (FAA) authorized for use in February 2011. In December 2011, American Airlines was the first airline authorized by the FAA to use Jeppesen charts on iPads in all phases of flight; and many air carriers are evaluating mobile EFB platforms that include iPads, and are using simulator and in-flight studies to help develop procedures and training programs, and to validate the use of the equipment in all phases of flight, according to Boeing.
The iPad's success does not come by chance. The technology debuted when flight operations departments already were considering EFBs but had been limited by the often-prohibitive cost of EFB hardware. The much lower acquisition cost of the iPad seems to have enabled a speedier transition to EFB technology.
Because of the recent evolution of EFB technology and the expected large-scale introduction of mobile devices onto the flight decks of commercial airlines, the FAA recently released Advisory Circular (AC) 120-76B containing guidelines for the certification, airworthiness and operational use of EFBs (ASW, 5/12).
According to definitions in the updated AC, the iPad can be used as either a Class 1 or Class 2 EFB. Class 1 EFBs are not typically mounted to the aircraft, and they are not connected to aircraft systems for data. Class 2 EFBs typically are mounted, but can be easily removed from their mounts by the flight crew, and they may connect to data ports (wired or wireless) or installed antennas. iPads cannot be Class 3 EFBs, which are permanently installed in the aircraft.
According to the AC's definitions, the iPad is capable of hosting Type A and Type B software applications. Type A applications are intended primarily for use during flight planning on the ground or during non-critical phases of flight. Type B applications provide aeronautical information required to be accessible at the pilot station and are intended for flight planning and all phases of flight.
Because the iPad already is used by many flight departments as an EFB during all phases of flight, there are few, if any, issues with regard to the iPad's certification. However, the FAA requires each operator to apply individually for approval to use the iPad as an EFB. Therefore, operators must consider the safety requirements set forth in the AC, especially those dealing with issues of long-standing concern such as electromagnetic interference, rapid decompression and the human factors/automation issues.
Non-Interference Testing
For some time, there has been concern that an iPad, as a transmitting portable electronic device (T-PED), could interfere with flight deck avionics. In particular, it has been reported that "Apple uses a capacitive touch screen, which detects a finger electro-statically and is susceptible to electromagnetic interference."3 Within the pilot community, there seems to be a consensus that this concern is overstated.
The FAA, however, says in the AC that "to operate a PED during all phases of flight, the user/operator is responsible for ensuring that the PED will not interfere in any way with the operation of aircraft equipment." The AC describes two non-interference testing methods, either of which may be used by applicants.
Method 1 comprises two steps. Step 1 requires an electromagnetic interference (EMI) test in accordance with RTCA/DO-160, the standard for environmental tests of avionics hardware published by RTCA, formerly known as the Radio Technical Commission for Aeronautics.
"An evaluation of the results of the … test can be used to determine if an adequate margin exists between the EMI emitted by the PED and the interference susceptibility threshold of aircraft equipment," the AC says. If Step 1 determines that adequate margins exist, then Method 1 is complete. Step 2 testing is necessary only if Step 1 identifies inadequate margins for interference. According to the AC, Step 2 testing is specific to each aircraft model in which the PED will be operated. The operator must test the specific PED equipment in operation on the aircraft to show that no interference with equipment occurs from the operation of the PED. "Step 2 testing is conducted in an actual aircraft, and credit may be given to other similarly equipped aircraft of the same make and model as the one tested."
Method 2 calls for "a complete test in each aircraft using standard industry practices," the AC says. "This should be to the extent normally considered acceptable for non-interference testing of a PED in an aircraft for all phases of flight. Credit may be given to other aircraft of the same make and model equipped with the same avionics as the one tested."
The need for each operator to receive approval for iPad operation as an EFB, and in particular the need for each user/operator to conduct EMI testing, has prompted the emergence of companies that supply customized testing, which could be an option for operators that do not have the necessary in-house testing expertise.
Rapid Decompression Testing
iPads meant to utilize Type B software applications in pressurized aircraft must undergo rapid decompression survivability testing that complies with RTCA/DO-160. Tests are not required if only Type A software applications are used, if alternate procedures or paper backups are available, or if the iPad is meant for use in unpressurized aircraft.
With regard to decompression testing, the AC says that "similarity of a particular EFB to a unit already tested may be used to comply with this requirement. It is the responsibility of the operator to provide the rationale for the similarity." Soon after its release in March 2012, the iPad 3 was tested successfully for rapid decompression at 51,000 ft equivalent altitude, the maximum service ceiling of business aircraft.
Have a good week, thanks for letting the 3DB be a part of your week and fly safe/be safe.
Robert Novell
June 2, 2014