"Robert Novell's Third Dimension Blog"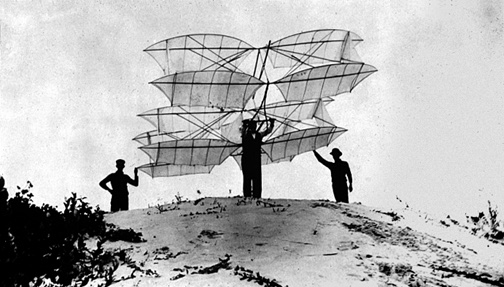 Good Morning—I hope everyone enjoyed the big day and have recovered from the food and festivities – OK, on second thought I think by next Monday we may will have all recovered. This week I want to talk about another aviation pioneer who was instrumental in the Wright Brothers success; however, before I tell you about Octave Chanute I want to share with you the following quote:
"Ideas, and inventions, rarely spring from a single seed, but are like a garden, an amalgamation of growth from different seeds."
Now, with those words in mind let's talk about one of those seeds who made the first powered flight possible.
Enjoy……………………………………
Octave Chanute
(1832-1910)
Octave Chanute was born in Paris Feb. 18, 1832, and came to the United States as a child. He became a respected civil engineer and scientist who lent his talents to furthering human transportation. He spent most of his adult life as an engineer in the railroad industry, and it was not until he retired from his engineering business in 1889 that Chanute had the opportunity for personal study and experiments in aeronautics. With the same analytical persistence that had made him a successful engineer he undertook to learn what had gone before. The result was his groundbreaking book, Progress in Flying Machines, published in 1894.
In 1896 at Dune Park, Indiana, about 60 miles from his home in Chicago, he began experiments with gliders, three of which were of his own design and two designed by others. Chanute's advanced age prevented him from piloting them himself but his scientific observations of the glides by his assistants, and his generous sharing of the results broadened interest and advanced the art.
Not satisfied just to record the achievements of others, Chanute began in 1896 to search for automatic flight control by designing and building a series of gliders which an assistant successfully flew along Lake Michigan's shore. In 1901 he visited the Wright Brothers and encouraged them in their gliding experiments, typifying his role as a collector and disseminator of aeronautical information and demonstrating his faith in the ultimate success of man to achieve powered flight.
Chanute was also instrumental in the revival of flight research in Europe in the early twentieth century. His lectures in Paris following the successful flight of the Wright Flyer in the United States served to rekindle the waning interest in flight among many European engineers.
Although he never flew, Octave Chanute spent a great deal of his life inspiring others to do so. It has been said that he caused people to act, and things to happen, by what he did, what he wrote, and what he said. Just months before his death he published a final treatise, "Recent Progress in Aviation," and from that we have the following quote:
"Let us hope that the advent of a successful flying machine, now only dimly foreseen and nevertheless thought to be possible, will bring nothing but good into the world; that it shall abridge distance, make all parts of the globe accessible, bring men into closer relation with each other, advance civilization, and hasten the promised era in which there shall be nothing but peace and goodwill among all men."
The Wright brothers acknowledged Chanute's key role as a mentor, saying that his research and continual inspiration paved the way for their success. Chanute corresponded with them for many years and even visited their camp at Kitty Hawk during their flight experiments.
Have a good weekend, enjoy the photos below, and keep family and friends close. Tomorrow our lives are one day shorter, when we wake up, and we all have to remember that there is life after aviation.
Robert Novell
December 28, 2012